It is with gratitude and joy that I share how our Circle of Greens in Provencher is part of the Green Wave of support sweeping Canada! As we attend community parades to make visible my intent to join the Team of Green MPs and represent Provencher, we are distributing our promotional seed saver envelopes and greeting supporters. It thrills me to be receiving cheers and warm calls of "Thank you – thank you for running!"
Philip Boily, a firefighter from Lorette, has donated the use of his beautiful Tesla, which we have decorated for the parades with our Green Party of Canada banner and "EM for PM" and Green Party shirts, with me waving to supporters – as you can see in the accompanying photos and videos.
Young members of my Circle of Greens Committee, led by organic farmer Gabi Simard-Nadeau and including Kaitlynn Friesen (my personal assistant), Noble Savage (my adopted grandson) and his partner Keisha Chief, run excitedly along the community crowds in La Broquerie and St. Pierre Jolys. They are sharing our message to think not Left, not Right, but Forward! We welcome anyone and everyone to join us in our vision for Canada of decisive climate action, innovative social programs and a renewed democracy. We will promote our Green Community events by phone canvases, by email, and by posting here – so please stay in touch!
The envelopes we share are for saving garden seed this fall and to remind you to ask your friends to register to vote in the upcoming Federal election this October (if they have not already) and to think about volunteering for the Provencher Circle of Greens, who are working to have a Green MP represent them in Ottawa. It's 2019: think Green, vote Janine!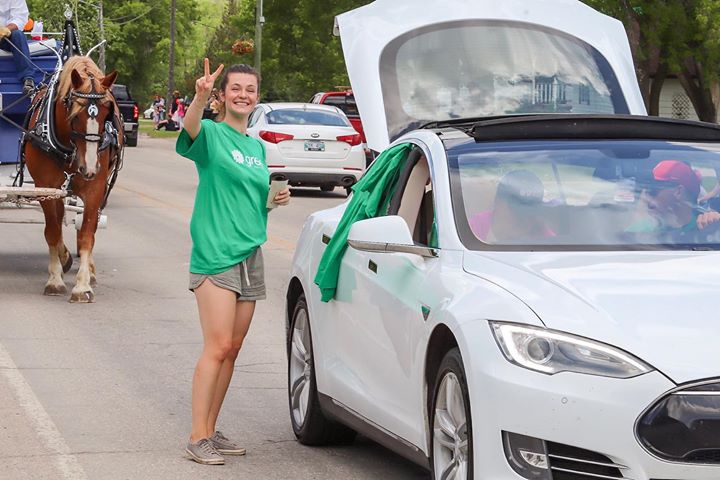 Are we choosing what's best for ourselves, our families, our communities, and our future? If your family has always voted Conservative, or Liberal, or NDP, know that like Elizabeth May, I am a bridge builder. Remember that Vision Green is fiscally conservative and socially progressive. I mean what I say and live my values to the best of my ability. I carry no debt load, though I occasionally need to dip into my overdraft when clients are late in payments, and I started my own business which is now in its 33rd year! I live simply so others may simply live.
In the coming weeks and months, our Circle of Greens will be posting pictures of our events and blogs about our experiences in this campaign as we carry our message of Vision Green and tell you more about what inspires us to be the change we want to see!
Can you name the five things most important to you in Vision Green? Let me know what they are! I will tell you what mine are in upcoming posts, and together we will build our conversation for positive change.
Let's do this together: Build a better tomorrow for Provencher and Canada today!